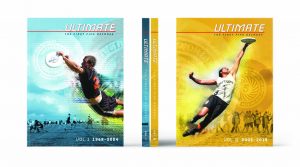 ---
I thought I knew my history of ultimate, but boy was I wrong. So I wanted to thank you for preserving "the knowledge" for us all. I can't imagine that it's been a terribly lucrative venture (because ultimate players basically don't buy anything except cleats and beer) but you've done a service to humanity, as I'm sure you know. Your book will be the Book of Kells for ultimate, reintroducing the game to generations to come in dark ages yet to be imagined. I'm not overstating it when I say that. I believe that each of us is a steward of our DNA (ours to enjoy and use while we have it) and I strive to honor that stewardship in my life. You have profoundly honored yours, and I hope you appreciate that.
John 'JV' Vorhaus
---
Just cracked open my new copy of ULTIMATE—The First Five Decades, Vol. II —
Congrats Joe on a beautiful book. Loved the images, writing (great review of the history of the pro leagues)… just loved the whole damn thing. I laughed out loud at the pic of His Holiness holding the plastic -great shot! And a tour de force surprise of surprises… when I turned the last page and the dust jacket popped up… and what's this I see printed on the back of the dust jacket??? No spoiler alert here but it was awesome! May I recommend only viewing the back side of the dust jacket by starting after the last page on the book, slowly from right to left working your way around the back side of the book for maximal viewing pleasure. I f'ing loved it!
Dan Hyslop
---
I really love ULTIMATE—The First Five Decades, Vol. I. I learned so much about the Condors which feels weird because I was there in the late 70's, but I guess I never asked the right questions. I really couldn't put it down. It's a great mix of the human stories, the history and the stats. Great job!
---
Ultlmate: Vol ll is another must-have for any player, fan or student of the game. Rich with rarely-seen photos and personal insights from those who made our history, this volume continues the amazing story of how the ultimate game has grown into its early promise. 
I received the book and I can't put it down… great writing and the broad history of ultimate is GREAT!  I really enjoy the book. Thank you so very much!
Mike Gross
Photographer
---
If you want to order more than 4 books, please email me.
Allow 2 weeks for delivery. Cannot ship to a PO Box.
No international shipments at this time. Sorry.
---