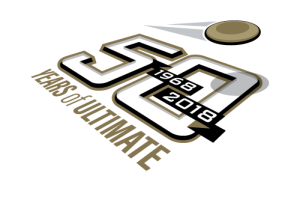 USA Ultimate 50th Anniversary Celebration – Oct. 2018
Hilton Del Mar (Del Mar, CA) (Oct. 18-21, 2018)
– Thursday evening: Opening Reception
– Friday morning History Exhibit and Friday evening HoF Dinner
– Saturday morning History Exhibit & CHS Roundtable and Saturday evening Dance Party
For more info about registration, click here.
Club National Championships occurring in parallel

(Oct. 18-21)

:
   Surf Cup Sports Park
(5 min. from hotel)
"Huck It Back" – Friday Beach Hat Tournament:
Coronado Beach

(Oct. 19, 2018 – starting 10am)
– Competitive & Recreational Divisions – Mixed (co-ed) teams
– A great time to reconnect with old teammates and friends… even if you don't play
– Proceeds being donated to E.R.I.C., G.U.M, Pufahl-Farricker Foundation, Ultimate Impact and Ultimate Peace
For more info about the tourney and how to register, click here.
Team Reunions:
• Santa Barbara Condors men  – Contact: TK
• Glassboro men – Contact: TBD
• Safari women – Contact: Chris Jewell
• Squash/Yesss!!! men – Contact: Doug Propp
Email Joe to add your team and contact here.
What does the 50th Anniversary Celebration need to be complete?
Here's a hint…