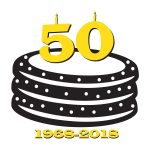 USA Ultimate 50th Anniversary Celebration
Hilton Del Mar
Del Mar, California
Oct. 18-21, 2018
– Thursday evening: Opening reception
– Friday morning: History exhibit
– Friday afternoon: Beach hat tournament
– Friday evening: HoF dinner – www.usaultimate.org/hall_of_fame/
– Saturday morning: History exhibit and CHS roundtable
– Saturday afternoon: CHS luncheon
– Saturday evening: Dance party
– Sunday: Parade of teams a la Olympics parade of nations
Club National Championships occurring in parallel (Oct. 18-21):
   Surf Cup Sports Park (5 min. from hotel)
   Del Mar, CA (north of San Diego)
     (Finals of all 3 divisions on Sunday – women's, men's, mixed)
———————————————————————
CHS Roundtable —
  Saturday morning, Oct. 20, 11am-noon
The format – 6 panelists and a moderator:
1. Each panelist will have 5 min. to discuss any topic they want about the CHS early years.
2. Moderator will ask 2-3 questions of the panel.
3. Audience will then ask questions of the panel.
PANEL (max. of 6 – yr. graduated from CHS shown):
Jon Hines (1970)
Joel Silver (1970) — tentative
Larry Schindel (1972)
Ed Summers (1972)
Candy (Jones) Johnson (1972)
Irv Kalb (1972) — tentative
BACKUP PANELISTS IF NEEDED:
Christy (Whitehead) Sullivan (left 1971 after jr. year)
Jon Cohn (1973)
David Leiwant (1973)
CHS Alumni Luncheon –
  Saturday, Oct. 20, 12:30-1:30pm (or longer if desired):
   – All CHS alumni are invited (whether participating on roundtable panel or not)
———————————————————————
What does the 50th Anniversary Celebration need to be complete?
Here's a hint…