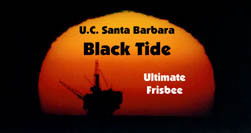 The U.C. Santa Barbara Ultimate Frisbee team began in 1984. In 1985, they became the Black Tide in support of a book written about the oil spills off the Santa Barbara coast. The team was only fair that first year despite the flexible eligibility rules allowing non-college players to participate. However, they took the sport seriously right from the start – due in great part to the leadership of Tom Kennedy (TK) as the man who brought Ultimate to UCSB. In 1985 they got a little better. In 1986 they made it to Nationals for the first time and lost in the semis. In 1987 they went back to Nationals and lost in the finals. Then they achieved an amazing feat. They won the National Championship 3 years in a row: 1988, 1989 & 1990. The early 1990's were rebuilding years, and then they again began their climb back to stardom. After losing in the finals and semis at Nationals in 1993 and 1994, respectively, they did not make it to Nationals in 1995. [Don't ever make the Black Tide mad.] In 1996 they began another National Championship winning streak of 3 years: 1996, 1997 & 1998. No other open college team has ever won the National Championship 3 years in a row… and the Black Tide have had 'two' 3-peats! The team was #2 in 1999 and lost in the semis at Nationals in 2000 and 2001, and lost in quarterfinals in 2002. The 2003 team did not qualify for Nationals, and the 2004 team was DQ'ed after having qualified for Nationals due to an ineligible player. The 2005 team did not qualify for Nationals.
Without any fear of exaggeration, the UCSB Black Tide was the most consistently successful
Ultimate Frisbee college team since the beginning of UPA College Ultimate thru 2004.
Team Pictures and Info by Year:
UCSB Black Tide Alumni Roster
(1984 – 2004)
The Grey Tide
(Black Tide Alumni playing together again)